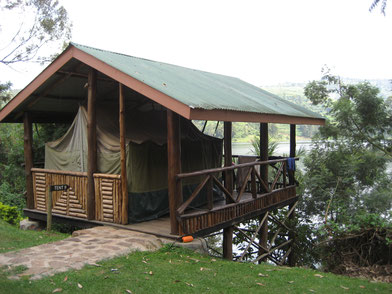 Hi all,
the very first day to relax. The last days where very hectically. We had a full agenda, maybe too full. Especially to drive bus all the time is annoying and time consuming. We were today able/allowed to have breakfast until 10:00!!!!! the other days so far only until 7:00 or even earlier. After the breakfast we continued with a small church service.
The voluntary boat trip I skipped and so I've some time to sit in front of my tent. You read right, the lodge has beside the cottages also some tents with view onto the lake Bunyonyi. The lake is very big and goes through several valleys. On the shore on the other side, I see some terraced fields and cottages. On the lake the locals transport goods like tea and eucalyptus leafs on their dugouts.
Some words about the temperature. We are in the mountains, at night and in the morning it's fresh and we need a jacket outside, but as soon as the sun comes through the clouds, it becomes very hot and sultry. Nevertheless we hope, that we don't get rain during the race tomorrow, otherwise the road will become mud. We prefer the dust, which protect against sun burn too.
Now I need to prepare myself for the race tomorrow. Maybe a small nep and drinking, drinking, drinking, checking of the equipment and so on. Later we will have a pasta-party.
Best Regards