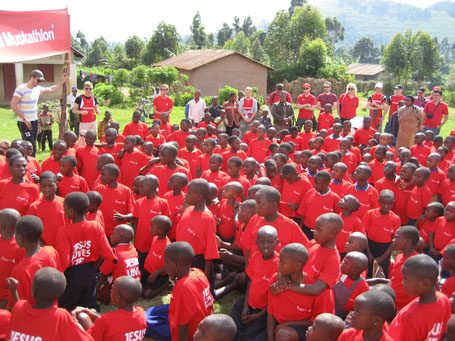 Hello all,
today is Tuesday May 24th. We celebrated today the "Kids Day". We met 400 childrens from different Compassion Child Development Centers and maybe the most important piece of the whole trip, I met our sponsored child Abel. Let me tell it, one after the other.
Again we had a long ride again with our beloved bus, which is a real challenge. Those are not buses like the once we know, they are small (for around 20 persons) and uncomfortable. As the roads are bad, the travel speed isn't more than 40km in an hour.
On a big sport field the kids waited already for us. All of them got red Compassion T-Shirts and it was a great view to see those 400 deep black kids in their red T-shirts. After a Kids-run, we offered them several stops, where they could play several games with their teams. The kids never participated on such an event and they were exhausted. They were never be celebrated in such way before and today even from Muzungus (whites).
In the afternoon I met our sponsored child Abel. He is 5 years old and very petite boy. He was so happy to meet me, I'm still affected and moved. He was accompanied by his tutor Patricia. A very lovely young woman with a very good English. She was able to tell me some more background information about Abel and his family. He has no parents anymore and lives at his grandparents. They have a strong need for support and I'm happy to be able to support them and Abel.
Of course I brough some gifts for him with me. He was so happy on the cap I gave him. Everyone knows, that I always wear on of my Chaskee-Cap, also here in Africa, and I gave him such cap (small child version). Those deep black child with a loud green-yellow cap with a  black neoprene shield. Cool! I'm sure, he took it, when he went to sleep. And then the marbles. I gave him a package of 80 marbles. So fare he owned not a single. It's embarrassing how reach we are and how poor the people there.
After a very hard good bye we drove back to the lodge. There we did a short exercise run (9km). Indeed the route of the race is very hard and it's very bizarre, to run between the poor cottages of the locals. But everywhere we get greeted by the people and they run a short distance with us. They have fun to see the crazy Muzungus running.
Best regards to all of you
Andreas