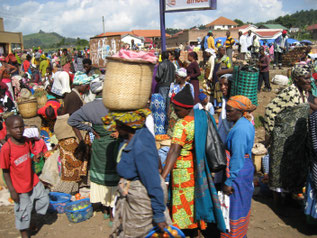 Dear friends,
another day and blog from Africa. Today we saw part of the real Africa. A wonderful nature and landscape, but bitter poor people. Nevertheless they are very friendly. Also today we had to get up very, very early, as ones again we had a long bus ride. Not long in distance, but on time, as driving in Africa is quite different than in Europe.
First we visited again a child development center. They welcomed us with traditional dancing. They asked some white guests to dance with them and you can bet whom they asked? Right, me! The kids hat a lot of fun, to see the Mzungu doing their dance. The dance was very exhausting, as they always jump, as you may have seen already on some movies. Of course I' wasn't able to photograph myself or do a movie of me dancing, but as soon as I got some pictures/movies form the others, I'll share.
Then we visited one of the sponsored child at home. He home of Silas (name of the boy) is a mud hut, which was a luxury gift from the church to the 8-headed family, as they lived before without a home.
It's quite difficult to understand, why this fruitful country is sooooo poor, but it was very good, that always staff of Compassion accompanied us. They were always there to answer our questions and you know me, I have always a lot of questions. I learned, that poverty is much, much more complex as I thought. Not just missing goods or money, it's also missing education, missing possibility, missing hope an much more. AND partly, the poverty is a result of the African culture.
Similar to Europe, Uganda has also a refugee challenge. Here are the people from Congo fled to Uganda. The way how they are living in Uganda made me speechless. But also here, the/their issues aren't easy to solve.
After a small breakdown with our bus (nothing serious, quite normal for the situation of the "streets" in Uganda),  we arrived again in the darkness our lodge.
Please stay tuned, you will hear more about the following days. 
Don't miss the pictures below. Click on them to get the full view and some text to each picture.