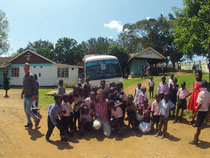 Today is Sunday and we got up very early as we had a long bus ride in front of us. We were driven from Kampalla to Kampale (407 km and 9h drive). We stopped at a Child Development Center and visited the Sunday service of the church at the center. An African Sunday service of a Pentecostal Church is a real event. Not comparable at all with our services in Germany.
After that we drove further and passed the Equator. And of course we stopped, to make the obligatory picture with one leg in the north and the other in the south hemisphere. The next stop was another Child Development Center. Also there many adults and kids expected us. Visitors from Europe as something very special for them. Special for this center is their orchard, where they teach the children. They had mangos, citron, oranges, avocados, jackfruit,  passion fruit and much more. The last part of the drive we did in the darkness, where we learned, that the last part of the road is part of the race.
 Our new hotel, isn't a hotel, but a lodge, partly already in the rain forest of Uganda. It's the starting point of the tour to the mountain gorillas of Uganda.
So be curious on the next blogs. Below some pictures of the day. 
Click on the pictures to get the full view and a description to every picture.